Advanced Veterinary Diagnostics & In-House Pharmacy
Veterinary Diagnostic Lab
Borgfeld Animal Hospital uses advanced technologies like electromagnetic radiation and high frequency sound waves to conduct diagnostic imaging. These tests allow us to produce extremely detailed images of your pet's internal systems and structures for assistance with determining an accurate diagnosis.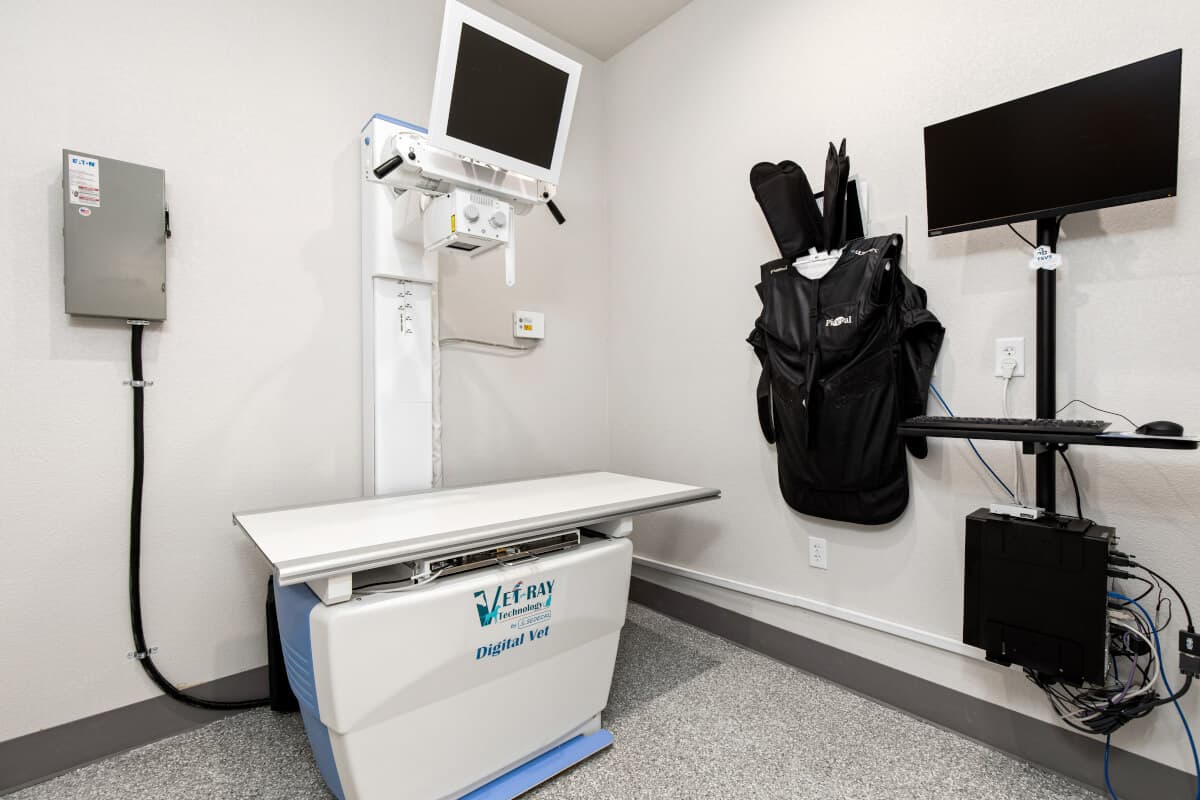 We will take the time to learn a detailed history and explore the reasons for which you and your pet have come to see us. Utilizing this information, we will be able to recommend specific diagnostic services which can help us determine the best treatment plan for your pet.
Comprehensive Diagnostic Services
With our in-house veterinary diagnostics lab, we are proud to offer advanced testing to allow us to investigate what could be going on with your pet:
Radiography (digital X-rays)
Ultrasound
Heart echocardiogram
In-house bloodwork (Full CBC and chemistry analysis)
Urinalysis
Fecal exams
Digital dental radiography
Ultrasound diagnostic technology is not widely available at other veterinary clinics. We are able to harness the power of high frequency sound waves to project detailed images of internal structures and organs. This can aid us with making a diagnosis and allow us to treat internal issues promptly. In instances where bloodwork signals an abnormality, we are able to utilize ultrasound to visualize problems like internal masses on vital organs, bladder stones, or gallbladder disease. If there is concern for heart disease we are able to coordinate an ultrasound of the heart to visualize and identify any abnormalities.
We offer bundled lab services, which will cost less than each individual test. If there is a lab results that we cannot obtain in-house, like endocrine diagnostics, we will still perform the test at your visit, but will send it out to a third party for processing and results. We strive to be a one-stop-shop for your convenience and to ease the stress for your pet who may be experiencing discomfort.
If it is determined that your pet needs additional imaging that we cannot perform, our veterinary team is happy to coordinate the procedure and refer you to a trusted partner.
Convenient In-House Pharmacy
When you visit Borgfeld Animal Hospital, we can send you home with the right medications for your pet. At our full-service, in-house pharmacy, we offer most of the common pet medications, including flea and tick prevention or parasite remedies.
The pharmacy staff will provide education on how to safely perform and manage medication administration, so you feel comfortable with the process. At times, the pharmacy can compound some medications into another form, such as a liquid or flavored treat, for easier administration.
Generally, prescriptions are only available for pick-up from our pharmacy. If you would like to get prescriptions sent directly to your home please use our online pharmacy. This makes it more convenient to buy necessary medication, especially for those that might need to be purchased on a recurring basis.
Make sure to stay up-to-date on your pet's preventive medications and reach out to us by phone or submit a request form if you need a refill.